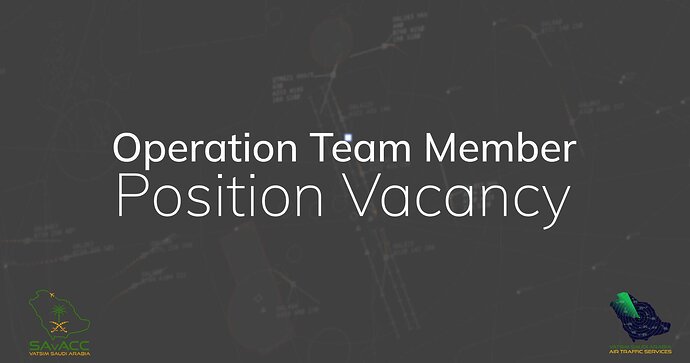 Are you passionate about developing sector files and learning airspace structures? If so, this position is perfect for you! Join us as we shape the vision for VATSIM Saudi Arabia Operations!
VATSIM Saudi Arabia is now seeking candidates for the following position:
Saudi Arabian vACC Operations Team Member
Position Duties:
The role of the Saudi Arabian vACC Operations Team Member entails contributing to the operations department and the maintenance of the sector files.
Key responsibilities include:
Maintaining and developing sector files of the vACC in liaison with the Department Director.
Performing tasks assigned by the vACC Director or Operations Director, ensuring timely completion and effective communication.
Coordinating with neighboring vACCs to ensure Standard Operating Procedures (SOPs) and Letters of Agreement (LOAs) are up to date and facilitating smooth coordination between the vACC's controllers (In liaison with the Department Director).
Testing sector file updates.
Minimum Requirements:
To be considered for this position, the candidate must meet the following criteria:
Experience in GNG is preferred.
Demonstrated knowledge and understanding of subdivisional, divisional and VATSIM Policies.
Excellent communication skills, both written and spoken, in English.
Active and in good standing with VATSIM.
Hold a minimum rating of Student 1 (S1).
Good knowledge of the local airspace structure and classes is favourable.
Membership in VATSIM Middle East and North Africa Division, or willing to transfer if selected.
Availability to dedicate a minimum of 5-7 hours per week towards developing sector files and other tasks.
Reports Directly To:
Operations Director- Saudi Arabian vACC [ACCSA32]
Application Process:
To apply for the position, please provide the following information:
Name, VATSIM CID, vACC/Division/ARTCC, and Email Address.
VATSIM CV outlining your past and current experience, including any staff roles, relevant skills, and real-world attributes that may contribute to the position.
Please submit your application, including the above information and documents, to director@vatsimsa.com. Applications are open until a suitable candidate is found.
Applications that are incomplete will not be considered. Candidates might also be contacted for an interview during the selection process.