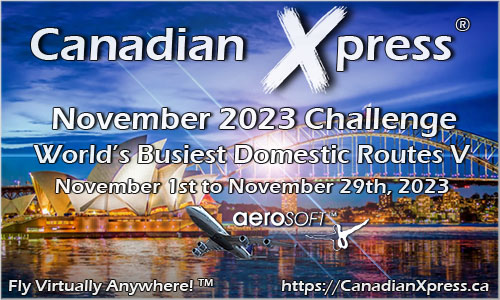 This month, we continue the World's Busiest Domestic Routes series of Challenges where we head to the land down under, Australia.
Melbourne is the capital of the Australian state of Victoria and the second-most populous city in Australia, after Sydney. The metropolis occupies much of the northern and eastern coastlines of Port Phillip Bay and spreads into the Mornington Peninsula, part of West Gippsland.
Sydney is the capital city of the state of New South Wales and the most populous city in Australia. Located on Australia's east coast, the metropolis surrounds Sydney Harbour. The estimated population in June 2022 was 5,297,089. The city is home to approximately 66% of the state's population. The city's nicknames include the "Emerald City" and the "Harbour City".
2022 reports show Melbourne to Sydney as the most popular domestic air travel route in Australia, averaging 150 daily flights carrying around seven million passengers.
Your mission is to depart from Melbourne (YMML) and fly to Sidney (YSSY) with the Canadian Xpress freeware or payware wide-body aircraft.
Join Canadian Xpress today in order to participate as there are some great prizes to be won including any Aerosoft download product from https://www.aerosoft.com/
The November 2023 Monthly Challenge is open to all Canadian Xpress pilots from November 1st until November 29th, 2023 so join Canadian Xpress today by visiting https://canadianxpress.ca.